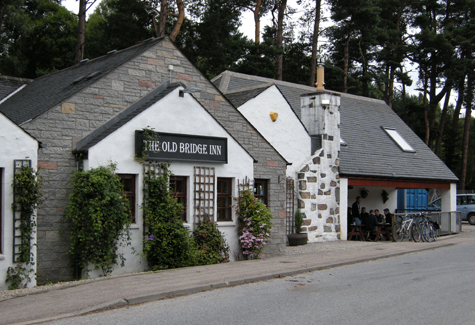 tel: 01479 811137
web: http://www.oldbridgeinn.co.uk/
email: via website
The Old Bridge Inn
The Old Bridge Inn, with its roaring log fire, cheerful atmosphere, excellent food and fine selection of wines, cask ales and malt whiskies has always been a favourite haunt for those who enjoy the outdoors. Varied menus, featuring the very best of Highland produce from river, sea and land, are carefully designed to tempt every palate and suit any occasion while friendly staff and locals always have time to make you feel at home. 
A favourite pastime during the summer months is to relax outside and watch the Ospreys circling above (and then raiding!) the local trout farm.
The Old Bridge Inn was one of the first establishments in Aviemore to provide a smoking area for our customers. We have provided a verandah where you can sit and enjoy the scenery!
Food Serving Times

12 - 2pm and 6 - 9pm
(9.30pm Fri & Sat)